BDFI Countdown
BDFI COUNTDOWN in cooperation with Chrisanne Clover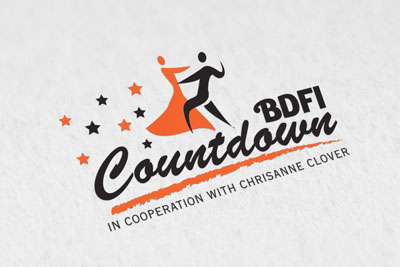 The International Council of Directors of the BDFI is pleased to announce the introduction of the BDFI Countdown in cooperation with Chrisanne Clover. This scheme is designed to encourage and benefit the Rising Stars of both Professional and Amateur competitors in Ballroom and Latin Championships and Competitions. The top-rated couple in each section will be awarded a grant of £500 per couple.
Winners will be calculated based on the results of specified major events held throughout the calendar year and geographically spread worldwide. As the scheme is aimed at Rising Stars, couples rated in the top 12 of each section will be excluded. (The top 12 is quantified as those couples that have reached the semi-final of any one or more of the three major championships held in the United Kingdom each year, these being the U K, British and International Open Championships – in the case of the British Open it will apply to couples reaching the semi-final in all four/five dances).
For events which include a Rising Star Competition, these results will be used for the calculations. For events where only an open competition is held, these results will be used but the results of couples within the top 12 will be excluded from the calculations. Points will be awarded as follows:
| | |
| --- | --- |
| Place | Points |
| 1 | 25 |
| 1 | 18 |
| 2 | 15 |
| 4 | 12 |
| 5 | 10 |
| 6 | 8 |
All semi-finalists 4 points
The winners of each category will be presented with their prizes during the U K Congress presented by the BDFI each January in Bournemouth, the first presentation being in 2018 based upon this year's results.
The International Council of Directors of the BDFI wishes Good Luck to all Rising Stars Competitors.
The BDFI is grateful for the cooperation of Chrisanne Clover in making the BDFI Countdown possible.
The list of included events below are currently being updated.
| | | |
| --- | --- | --- |
| Competition | Date | Country |
| BDF Star Ball | Jan-17 | UK |
| UK Championships | Jan-17 | UK |
| NYDF | Feb-17 | USA |
| Open British Championships | May-17 | UK |
| Festivaldanza Cervia | June-17 | Italy |
| Come Dancing Cup | Aug-17 | Hong Kong |
| Korea Cup | Sep-17 | South Korea |
| Open International Dance Championship | Sep-17 | Philippines |
| Autumn Dance Classic | Oct-17 | USA |
| International | Oct-17 | UK |
| UKR Dance cup | Nov-17 | Ukraine |
| Winter Star | Jan-18 | Russia |